For many who are experiencing difficult times, the Fuquay-Varina Emergency Food Pantry is a vital provider of food and personal care items. This means that the number of people depending on us is likely to grow as our population increases. Each month we see new clients. We have yet to turn one person away who is in need of food. However, we need your help to continue to meet this growing need. You may support our efforts by making a donation of food, personal care products or money.
FOOD:
Food drives are a great way to give back and to build community spirit. We have been fortunate to have many local businesses, scout troops, the fire department, churches and private parties collect food for our pantry. We have also had individuals and local grocers who make food donations and we are forever grateful for such a supporting community. As the number of those in need increases, however, the need for support increases proportionately. We always have a need for canned and dry goods.  Since we serve a large number of elderly clients, we also like to receive donations of Ensure or Boost.
Donations of food can be delivered to the food pantry during our operational hours:
Tuesday between 9:00 a.m. and 11:45 a.m.
or Thursday between 3:00 p.m. and 5:45 p.m.
Food donations may also be dropped off at the Century 21 office of Becky Medlin, 407 N. Judd in Fuquay Varina, or at Coldwell Banker Howard Perry and Walston Realty, Inc. at 528 N. Main St. in Fuquay Varina.  Office hours are usually Monday through Saturday between
8:30 a.m. and 5:00 p.m. or Sundays between 1:00 p.m. and 5:oo p.m.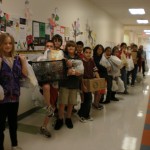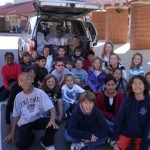 Students from Davis Drive Elementary show off their collection of donated goods.
NEIGHBORHOOD FOOD DRIVES:
One way to volunteer, contribute and donate is by organizing a neighborhood food drive.  Madison Williams (pictured below), a 17-year-old from the Brighton Forest neighborhood in Apex, collected hundreds of pounds of food and delivered them to the pantry in her car. 

HYGIENE AND OTHER PERSONAL CARE PRODUCTS:
In addition to food donations, the pantry also accepts and distributes hygiene products and other toiletries for personal care.  Cindy from Jus' Enuff restaurant in Fuquay is shown below with a collection of personal care products she obtained for the pantry.

ON-LINE DONATIONS:
Donations may be made on line using your credit card. Simply click on the "Donate" button in the box at the upper right of the web page and follow the simple and secure procedures to complete your donation. It is fast and easy, whether you have a PayPal account or not.
GROUP AND CLUB FUNDRAISING:
School clubs, social clubs and private groups often make an effort to help us not only with food drives but by raising funds.  For example, we recently were presented a check for $650.00 from the Eagle Ridge Senior Men's Golf League.  These men started a kitty to collect funds at their weekly golf outing and presented the check to our Pantry at the end of the year.
OTHER MONETARY DONATIONS:
Donations by check of cash may be mailed to our PO Box or dropped off at the food pantry during our hours of operation. Checks should be made out to Fuquay Varina Emergency Food Pantry and mailed to:
Fuquay Varina Emergency Food Pantry
P.O. Box 1463
Fuquay Varina, NC 27526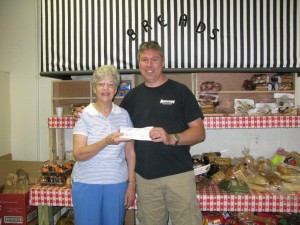 A Special Gift for Loved Ones:
You may also wish to donate a gift in honor or memory of someone else. If so, cards are available on request at the Food Pantry. An example of the inscription that is on the inside of our memorial card can be seen below. We also have cards available on request for Christmas donations.