Welcome
The Fuquay Varina Emergency Food Pantry is a faith-based organization whose mission is to help as many area families as possible to ensure that they are not handicapped by hunger.
In 2013, we handed out over 6,922 boxes to needy families, which helped feed over 24,616 men, women and children, primarily in Fuquay Varina, Willow Spring and Holly Springs.  We also handed out over 750 turkeys in November.  We are anticipating similar numbers in 2014.
This Quarter's Meat Supply:
During July, August and September, the TEFAP program will be providing hamburger meat for our clients.  Donations of boxed dinners such as Hamburger Helper would be a welcomed donation during this quarter, plus any other food that can stretch hamburger, such as diced tomatoes, kidney beans, chili seasoning packets, etc.
Fresh Produce:
Thanks to the generosity of our local grocers, church gardens, farmers and gardeners, we are able to provide fresh produce for our clients on a regular basis.  One client remarked "Thank you, thank you.  As a diabetic, I am not able to eat a lot of the boxed and canned goods or the breads, so it is so nice that there is fresh produce available.  I cannot afford to get it in the stores."  We are pleased to pass along her gratitude to our providers.
Food Drives Continue to help us stay in stock:
Many children continue to organize their own food drives and bring donations to the pantry.  For this, we are most grateful.  Our fire department has also been great about collecting food items for the pantry.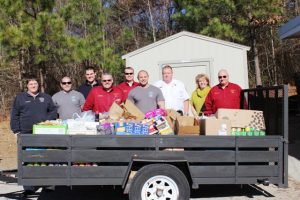 Members of Fuquay Varina Fire Department deliver an unload food at the pantry.
Thanksgiving News:
This year we were especially busy, handing out turkeys, stuffing, vegetables, cranberry sauce and gravy to over 750 families in the area.  Thanks to the generous Thanksgiving donations from so many in our community, we were not forced to dip into the pantry's regular operational funds last year.  This Thanksgiving we hope to do the same and will be distributing Thanksgiving gift cards soon.  Cards will be provided for a $20.00 donation and a personal message can be written on the card.
Turkey Donation:
And speaking of Thanksgiving, Coldwell Banker Main Street Associates donated 50 turkeys for distribution at the Food Pantry in 2013.  Volunteer Laeron Roberts picked up and delivered the turkeys to the pantry on November 21st (pictured below).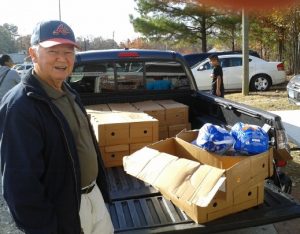 Children find many ways to help fight hunger:
The students in the fourth grade classes of Mrs. Flanagan and Mrs. Nations at St. Mary Magdalene School in Apex came up with a clever way to help others.  They cultivated an herb garden and later sold most of the herbs and even used mint to flavor lemonade, which they also sold.  They combined this money with money from a bake sale and made a generous donation to our food pantry in Fuquay as well as the Western Wake Crisis Ministry in Apex.  Great job!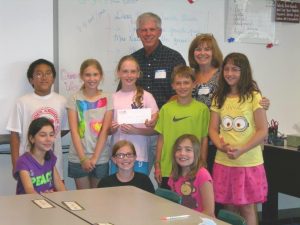 Davis Drive Elementary's Annual Drive:
A special thank you also goes to Davis Drive Elementary School for their successful food drive.  The school collected over 100 boxes of food for our pantry again this year, filling more than three pick-up trucks and amounting to about 3,000 pounds.  The citizens of Fuquay-Varina, Holly Springs, Willow Spring and throughout your community are grateful for your hard work and generosity.
Local children organize drives for the pantry:
Davis Kisinski and her brother, Jamie, ages 9 and 7 respectively, sold lemonade and cookies to raise money for the food pantry.  They also organized a neighborhood food drive, collecting several boxes and bags of nonperishable goods.  They raised and donated $84.00 as well as the cartload of food shown below.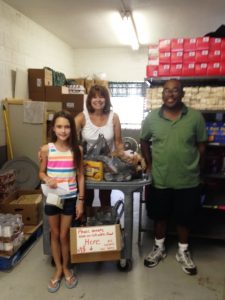 A Special Birthday Present:
We also received a generous donation from Kara Dershem. Kara collected food donations at her 9th birthday party and delivered the food to the pantry. Check out her winning smile and generous face in the picture below, posing with the food she collected.
Making good use of old toys:
Kyle VanSteenbergen sold his Lego toys that he had outgrown and raised $75.00.  He donated his money to the pantry to help provide food for those less fortunate.  Way to go, Kyle.
Think About Your Leftovers:
If your office or school has events scheduled that involve food, please consider our food pantry for leftover or unused nonperishable goods.
Funding is always needed:
Besides donations of food, please keep in mind that we are spending more funds than usual to make up for the decrease in government supplies and increase in clients.  Therefore, monetary donations are always greatly appreciated and are put to good use to buy those things we need. Check out our "Donate" tab on this site for a sample Christmas card as a way to enhance your holiday giving.  All donations go toward food and staples for our clients, or for maintenance of the food pantry facilities. None of our board or our volunteers receive a salary.