Welcome
The Fuquay-Varina Emergency Food Pantry is a faith-based organization whose mission is to help as many area families as possible to ensure that they are not handicapped by hunger.
In 2015, we handed out over 5,500 boxes to needy families, which helped feed over 20,000 men, women and children, primarily in Fuquay Varina, Willow Spring and Holly Springs.  We also handed out over 700 turkeys for Thanksgiving last year.  We are anticipating a need for at least this many clients this year.
Tiger makes the Food Pantry Scene:
The Adcock family purchased this tiger and made a generous donation to our Food Pantry in memory of Buck Adcock.

Special donations for Thanksgiving:
Each year we ask people in the community who can afford it to help provide a Thanksgiving meal for our clients.  We ask for $20.00 donations and ask that they add a short note to wish our client a blessed and happy Thanksgiving Day.  Besides individual donations, we also receive support from several organizations, businesses and service professionals.  This year, we were also blessed with funds raised during a raffle at Savor Fuquay-Varina.  Lisa Schultz and Jonathan Holland stopped by the Food Pantry to present the cash to our director and the staff.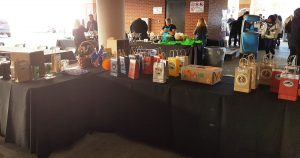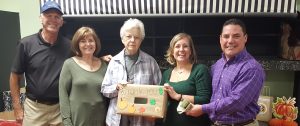 Food Drives Continue to help us stay in stock:
Members of our local fire department delivered a truck load of food this holiday season to support the people in our community.  They have a food drive each year during the holidays and plan to do a drive again this summer.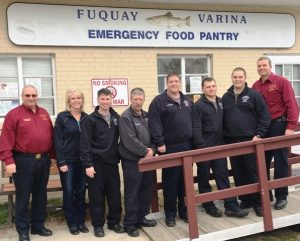 Fuquay-Varina Firefighters deliver and unload food at the pantry.
Scouting Troops are regular sources of help for those in need:
Over the years, Scouting organizations have helped us by raising funds or organizing food drives to benefit the food pantry.  Some of our latest contributors were from Girl Scout Troop 1735, Daisy Troop (all 5-7 yrs olds).  We always look forward to having the Scouts help us at the pantry.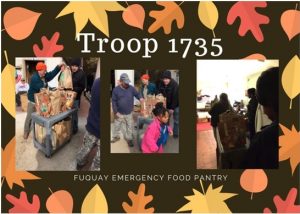 Local children organize drives for the pantry:
Cole and Cameron Burke held a food drive and a book drive in their neighborhood.  They are shown here with their haul of donated food and books when they delivered them to the pantry.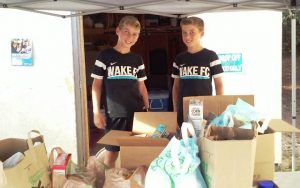 Lemonade Stand raises money for the Food Pantry: 
Four industrious sisters opened their own lemonade stand to raise money for the food pantry.  Lydia, Georgia, Mary Martin and Julia Walters presented $71.73 to our pantry, money that they earned at their lemonade stand over a hot weekend.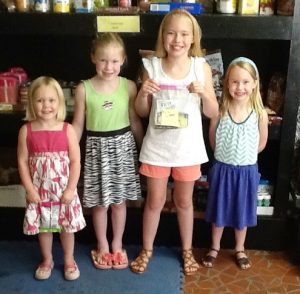 Boys help with yard sale & raise money for food:
Two of the Duplessis boys, Joey (4) and Dean (7) used their profits from their yard sale to buy food for the food pantry.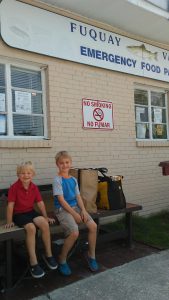 Therapy Class Bake Sale also raises money for Food Pantry:
The thoughtful children in this therapy class organized and held a bake sale to raise money for the food pantry.  They are shown presenting a check to Mrs. Goddard for $200.00 as a result of their sale.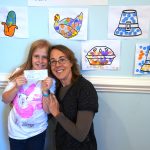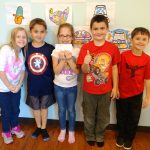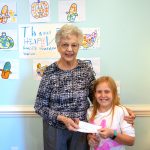 Neighborhood Food Drives:
Caleigh Rogalski organized a food drive in her Saddle Run neighborhood in Fuquay-Varina while her friend Samantha organized a similar drive in her Holly Springs neighborhood.  These enterprising young ladies (age 12) made and distributed flyers, advertised on neighborhood Facebook pages, collected the donations and then delivered them to the Food Pantry, filling Caleigh's mother's SUV.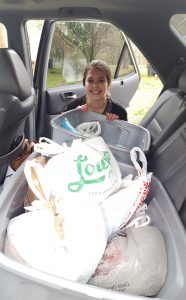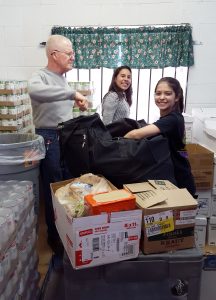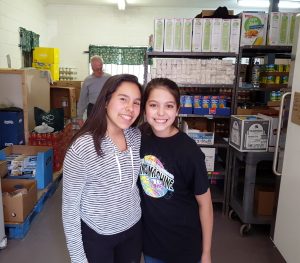 Wee Play's Play Group:
Stacie Borrello and her son Jackson delivered a trunk load of groceries collected by members of the play group and their families.
Piney Grove Baptist Youth Group:
Church groups are a wonderful source for bringing in dry goods for our clients while experiencing the good feelings that come with helping others.  Pictured below some members of Piney Grove Baptist's Youth Group delivering some of the items they collected.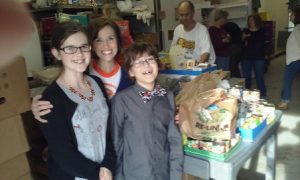 Davis Drive Elementary's Annual Drive:
A special thank you also goes to Davis Drive Elementary School for their successful food drive.  The school collected almost 5,000 pounds of food for our pantry again this year.   The citizens of Fuquay-Varina, Holly Springs, Willow Spring are grateful for your hard work and generosity.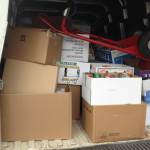 A Special Birthday Present:
Some children decided that instead of receiving presents for themselves, they would collect presents (namely, food) for others.  Paisley Weathersbee had her guests bring food to her 2nd birthday party, and then she repeated her act of kindness on her third birthday.
Another birthday contributor this year was Liles Ellington, who collected food donations instead of presents for his 4th birthday.  Liles has a big heart and he loves to share.
Making good use of old toys:
Kyle VanSteenbergen sold his Lego toys that he had outgrown and raised $75.00.  He donated his money to the pantry to help provide food for those less fortunate.  Way to go, Kyle.
Baking for Others:
These children baked pumpkin and apple pies and then sold them, donating all of the money to the food pantry.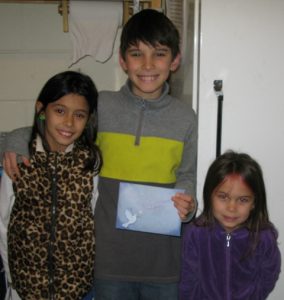 Fresh Produce:
Thanks to the generosity of our local grocers, church gardens, farmers and gardeners, we are able to provide fresh produce for our clients on a regular basis.  One client remarked "Thank you, thank you.  As a diabetic, I am not able to eat a lot of the boxed and canned goods or the breads, so it is so nice that there is fresh produce available.  I cannot afford to get it in the stores."  We are pleased to pass along her gratitude to our providers.
Funding is always needed:
Besides donations of food, please keep in mind that we are spending more funds than usual to make up for the decrease in government supplies and increase in clients.  Therefore, monetary donations are always greatly appreciated and are put to good use to buy those things we need. Check out our "Donate" tab on this site for a sample Christmas card as a way to enhance your holiday giving.  All donations go toward food and staples for our clients, or for maintenance of the food pantry facilities. None of our board or our volunteers receive a salary.